E-COMMERCE Turnkey Solutions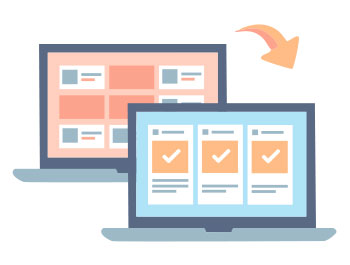 All of Unity's products can easily be integrated into a new or existing digital platform. The proper understanding and feasibility of a custom integration is key for guaranteeing a reliable and durable long-term profitable partnership. Unity Automotive has extensive experience with online integration and existing software controls to ensure reliable system integrators. We are experts at integrating our product portfolio into various web based platforms. From programing logic to training, customer service, implementation and streamlining controls, we can work with you to create a custom solution for your web property. We work closely with your team, from the design phase through post startup support, to make sure your system is fully operational and its' performance exceeds your expectations.
Unity Automotive can easily implement over 4000 SKU's into your website, increasing your available inventory and also increasing your monthly revenue; all while not worrying about shipping. Unity Automotive offers a full integrated solution using cutting edge technology to maintain up-to-date inventory, custom pricing, PIES and ACES data to ensure your catalog is complete and profits come first. We will build a platform that will seamlessly integrate or enhance your current web based platform. Here are the current integrators we offer:

Staying ahead of the market, we have implemented EDI (Electronic Data Interchange) capabilities for all our enabled customers. EDI applies to documents such as purchase orders, invoices, shipping notices, and commission sales reports, as well as other important or classified information. If you aren't setup for EDI, don't worry, Unity can assist with getting you setup and providing the service back to your customers. Less time processing, and more time selling.

Though you may be interested in our EDI, your current system may be structured for an active API for inventory and pricing updates. An API uses predetermined fields and interacts with each system only exchanging those specific fields needed. We can integrate the inventory available, product descriptions, and pricing to automatically update for real-time transaction update.

If you are in the process of upgrading your system to enable for either API or EDI, but have yet finished, we will arrange a scheduled FTP upload. The File Transfer Protocol (FTP) from our end can be set to automate the upload of inventory and pricing changes. From the client side, we can assist with integrating the update automatically, or you may continue with the manual updating. This format will also maintain predefined fields in CSV format.
With the ease of increased amount of inventory, you can begin reselling. We also offer the convenience of dropship to ensure the correct product is sent and alleviate additional costs incurred by you. Unity Dropship will save warehouse & shelf space while offering inclusive strategic packaging: glossy 4 color boxes customized to impress your customers, labeled with UPC coding with interchangeable part numbers, and warning labels placed on every mount.
Customers are the number one priority, and with you in mind, we designed UnityClients.com to afford you the luxury of knowing everything we do about our products, inventory levels, fitments and applications. Unity Automotive is accelerating the way our auto parts are sold online, by developing and integrating every tool our partners need to exceed.
We also provide other services to accomodate business of all sizes, please see below for more.
Unity offers the most competitive Direct Import program in the country with complete solutions for all products Unity offers. A full service team is available to handle all of your needs from the production line directly to your warehouse dock. From market data, freight, customs clearance, private labeling, etc. "Unity has everything you need"
Our Distribution Center in Florida can handle nearly any size order quickly and pain free. Place your orders online or directly with your Sales Representative and Unity handles the rest. We keep every application in stock and ready to ship at a moments notice. Our staff is highly trained with focus on perfection and professionalism.
A Service which allows you to place an order and have the product delivered directly to the end consumer. This service has the following features:
• Integrated ordering for online vendors via API
• Place an order directly through our client site
• Discounted Shipping UPS rates
• Shipping history including tracking numbers

For more information about our services, please feel free to contact us directly. We look forward to hearing from you.